Dear Friends:
Many thanks for being so responsive to our many pleas for help during budget advocacy season. Because of your support and the efforts of so many concerned community members, the potential crisis in the shelter system has been averted!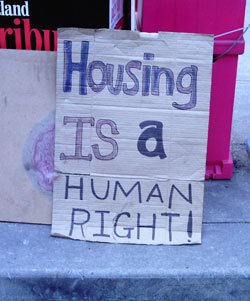 Here's a quick report on what happened at Wednesday's vote:
The DC Council passed the Budget Request Act for FY2012. (Only one reading and vote is needed on the BRA.) The budget which council members adopted includes these important provisions:
– An additional $17million for homeless services, to further close the gap left by the loss of one-time federal funds;
– $1.5 million for Interim Disability Assistance, which means the District will not have to suspend the IDA program, as the Gray proposal would have required. With $1.5m, DHS can maintain a case load of a little more than 400 (far less than the need, but certainly better than zero);
– $4.9 million for TANF, which will allow the District to delay until next year further implementation of sanctions for families who have been on TANF for more than 60 months. This will give the Department of Human Services time to put in place better supports for these families, and potentially transfer some households to disability assistance.
The Council also had a first vote on the Budget Support Act for FY 2012. (The second vote on the BSA is on June 14th.) The Act:
– Substitutes the elimination of the exemption from tax on interest from out of state bonds for the increase in income tax rate for high earners that Mayor Gray had proposed.
– Sets out a list of priorities for program restorations, should the revenue forecasts improve (as is predicted). Depending on the amount of new revenue available, some or all of the following amounts may be restored:
* $1.6 million for Permanent Supportive Housing
* $18 million for Housing Production Trust Fund
* $2.5 million for Homeless Services
* $5 million for Department of Mental Health
Since the BSA requires a second reading and vote, it is possible for some of this to change in the next several weeks. We understand that some council members are already hard at work, trying to undo these gains. We are equally hard at work, trying to protect them.
Please join us in thanking our Council members for funding these vital programs, and urge them to hold firm at the second vote on the BSA. It's important that they know the community supports their efforts. You can send an email to all members with just one click at www.the1500.com.
It was quite remarkable to have so many people speaking from the dais about the importance of homeless services. I don't think that has happened before to such a great degree. It was the outpouring of community support that compelled the council to prioritize these vital safety net programs. Many, many thanks for your efforts on behalf of our client community.
May 25th was a good day. Chalk one up for justice!